Our aim is to give excellent care and service, and to treat each of our patients as individuals so you receive a unique, tailor-made programme for your specific needs. The PhysioCare Team is made up of five experienced Chartered Physiotherapists who have worked in both Private Practice and the NHS for many years and are all HCPC registered. They each have areas of special interest within physiotherapy and continue to develop in their work through study and professional courses. It is our pleasure to introduce them to you…
"I like to take a person-centred approach to my practice to help establish and achieve specific goals tailored to my individual client's needs, providing engaging rehabilitation programmes with the aim of reducing pain and optimising function.
I also have a strong background in elite sport, having worked with the first teams at Middlesbrough and Portsmouth Football Clubs.
Through this experience I am able to offer Island athletes a specialist physiotherapy service to rehabilitate sporting injuries from amateur through to professional level.
My hobbies include travelling, reading, attending sporting events and spending time with my family."
Musculoskeletal treatment, rehabilitation & management
Sports Injury Specialist
Ultrasound
Shockwave Therapy
Sports Massage & Manual Therapy
Acupuncture
Pain management
"Before becoming a Physiotherapist I gained a degree in Psychology. I believe, therefore, that whatever life throws at you, in most cases, your body is what you have the most control over and consequently I am passionate about holistically treating a person – helping them to heal themselves.
I have worked in a range of settings, both on land and in hydrotherapy pools, and with patients from super-fit soldiers to nervous MENCAP clients and I believe, whatever someone's background, it is possible to find ways to help wth a person's physical health and rehabilitation.
From my own experience, I know what it is like to have days when I am raring to go for a run with the dog and others when the best I can manage is to lie down and do some breathing and relaxation work! This is why I like to work with a patient to inspire them to help themselves, whatever their situation.
I have recently moved to the Island with my family and I am looking forward to searching out a dance class. I relax with sewing and music, singing and teaching myself to play piano."
Musculoskeletal treatment, rehabilitation and management

Manual therapy & Sports Massage

Clinical Pilates (APPI trained)

Acupuncture (member of AACP)

JEMS trained (movement enhancement approach)

Hydrotherapy trained
"I have a particular interest in the cause and effect of injury on the body and my passion is motivating patients to keep active and fit, whatever age, whilst promoting a healthy lifestyle.
In my spare time I have many sporting interests which include running, yoga, skiing and sailing. I love cooking and entertaining friends and family. I spent 2 years cooking on a yacht sailing around the Pacific Ocean in the late 1980's and continue to enjoy spending time on our family boat."
I have recently been awarded QAP Quality Assured Practitioner by PhysioFirst
Musculoskeletal injuries particularly low back pain, whiplash and work related problems.
Shockwave Therapy
Acupuncture (Member of the AACP, the Association of Chartered Physiotherapists in Acupuncture since 1998).
Member of PhysioFirst (the Organisation of Physiotherapists in Private Practice since 1997).
Member of ACPOHE (Association of Chartered Physiotherapists in Occupational Health and Ergonomics.
Credentialled McKenzie Method practitioner
"I enjoy treating women's health issues and having undergone many training courses, have a deep interest in compassion focused therapies such as Cognitive Behavioural Therapy. I believe it's important to treat patients as a whole and like to delve and find the triggers which have caused the pain in the first place.
Now that my two children have just "flown the nest" I have more time to indulge in my hobbies. I am an avid reader and enjoy cooking of all sorts and country walks. I also enjoy traveling widely both for work and leisure."
Neurology – treating conditions such as MS and Parkinson's

Musculoskeletal

Respiratory

CBT (Cognitive Behavioural Therapy) particularly its role in people with chronic pain

Women's Health with a special interest in lower back and pelvic girdle pain and dysfunction.
"I believe in helping individuals understand their problems and work towards self-help in managing their symptoms in order to achieve and maintain a functional and healthier life.
For my own focus and health, I practice Tai Chi most mornings and I started Morris dancing 3 years ago. I dance at various events on the Island and on the mainland as part of keeping fit. I also enjoy floral gardening, walking and exploring."
McKenzie Method and Mulligan concept for treatment of the spine and peripheral joint mobilizations.
Shockwave Therapy
Muscle and fascia release, and neural mobilisations, for chronic pain dysfunction.
Bowen Technique – a holistic hands-on complimentary therapy.
Sports and Kinesio Taping.
Epley manoeuvre for vestibular vertigo and functional exercise prescription.
Acupuncture (Member of the AACP, the Association of Chartered Physiotherapists in Acupuncture since 2004).
Electrotherapy and Hydrotherapy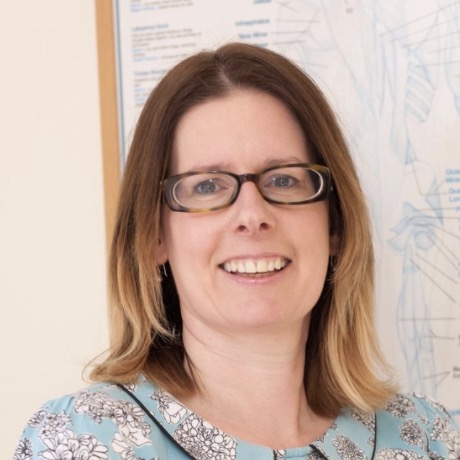 "My key role on Reception is to provide great customer service and I enjoy helping people, whether on the phone or in person. My previous experience helps me to make sure that all our patients are looked after in the best possible way, as I am able to identify and match a patient's problem to the right Physiotherapist.
When I am not working, I really enjoy cycling and walking, which is a good antidote to sitting at my desk all day and keeps me fit."
Rachel has a strong administrative background having worked in healthcare and customer services since leaving school in 1987.

Based at our Ryde clinic, Rachel acts as a central point of contact for PhysioCare's two clinics. She is the warm, friendly voice at the end of the phone providing help and information and ensuring there is a welcoming environment for our visiting patients
My Physiotherapist has a unique way of dealing with her patients. She first and foremost has the skill required to help solve their problems and has an interested, inquisitive and open mind. She also expresses a great deal of care.
I just wanted to say thank you for all your help with my recovery from my knee ligament injury. I am now back playing football properly and have today been told I have been selected for the Island Games Ladies Football Squad, so after a long and difficult time out, all the hard work has paid off. My knee is feeling pretty good and I'm continuing with strengthening exercises all the time.
Due to having received an impeccable standard of treatment and professional service I would feel it wise for someone requiring a physiotherapist or help with pain to seriously consider visiting PhysioCare for assistance
I walked into the clinic in pain and bent over and emerged much more relaxed, standing and walking upright and in much less discomfort. Not only did my physiotherapist treat me with a great deal of care and understanding, she also restored my confidence.
Ryde
102 George Street, PO33 2JE
Cowes
12 Ward Avenue,
PO31 8AY
01983 812576
Our Reception is open 8.30 am to 4.30 pm on Tuesdays, Wednesdays and Thursdays.
Outside of these times our Practice Manager is working from home so please do leave a message, as it will get sent to her email. Alternatively you can send a direct email to:
manager@physio-care.com
Or via fax on:
01983 568196
Don't forget you can book appointments online, please click below.
For all other enquiries please use the following form and we'll be in touch with you asap!